5 SEO Tips Every School Marketer Can Implement
MAR 02 2019
SEO (Search Engine Optimisation) has been a long-time love of mine. It's one of those ever-changing digital arts that keeps you on your toes and never lets you get too comfortable. But then again, that pretty much sums up all digital marketing, doesn't it? (It's a good thing I like a challenge!)
SEO isn't always that easy and doesn't happen overnight. Some of it is technical, but most is actually within every marketer's reach. In this article, I thought I'd start with 5 tips from the top SEO experts which every school marketer, with a little time and patience, can implement to improve your school's website ranking in search results.
Just a quick preface to this article. Remember you don't need to optimise every page of your school website. Think only of the keywords you want to be found on and then look at the pages it makes sense to optimise using those terms. For instance, if you're a boys boarding school you'll want to put boarding keywords on your boarding page. And of course first and foremost, do your keyword research. What are the terms parents are searching on? They may not always be what you think.
---
I love Neil. He's straight-forward, to the point, and always gives practical advice to his followers in his blogs and videos. Sort of like me I suppose (except for the huge following and the SEO guru status bit). Neil is a self-made SEO expert but his results speak for themselves. So he's always on my list of articles to read to catch up on the latest inbound marketing tips. One that I've pulled out of his recent 'How To Rank #1 on Google in 2019' video, is an old standby that you can't go wrong with…
1. Optimise Your Meta Titles and Descriptions
Optimising your meta tags is basic SEO best practice, but it's still surprising how few schools pay attention to them. Meta titles and meta descriptions are what users see when entering a query or keyword in a search engine. This is the first impression many visitors will have of your school so you'll want to make it as enticing as possible to encourage visitors to choose your 'ad'. One of the ways to do that, of course, is to include the keywords your audience is searching on.
As Neil says, imagine that you search for the term 'boarding schools for boys' (okay I'm changing his example from online dating) and none of those words showed up in the results, would you click on it? Why would a person click on a result that wasn't related to what they were searching for? Google knows that people click more on search results that have the keyword in the listing. So, by default, they'll show those listings first. For that reason, you'll want to be sure that you include your keyword in your page title and description. But you'll want to do it right:
In your title tag, add your keyword first, followed by your school name. Results with the keyword first tend to rank higher
Make it flow. Don't try stuffing your keywords in your description, it has to sound natural
Stick within the character count. Check out this handy online tool by

SERPsim.com

that allows you to preview what your search result will look like both on a desktop and a mobile. Google recently reduced the characters (after expanding them) so make sure yours aren't being truncated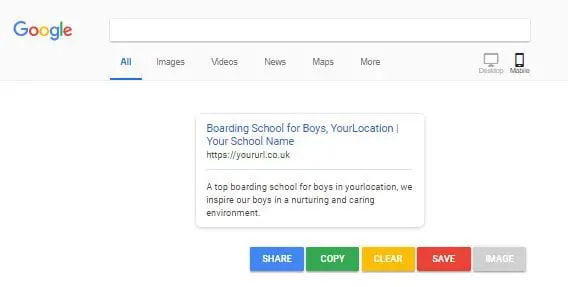 ---
Launched in 2003, Search Engine Journal is a go-to place for me to keep on top of what's happening within the search marketing community. With a number of expert contributors covering everything from SEO to social media, it's a great place to find answers from real-life marketers. I thought I'd share a tip from a recent article of theirs on '9 Keys for Creating Your Best SEO Content in 2019'…
2. Create Audience-Focused Content
I've always emphasised you need to be writing content that matters to your audience. Not just from an SEO perspective, but just as good marketing rule of thumb. But if we are talking about SEO, then according to Search Engine Journal…
"Content that's highly ranked, that drives traffic and leads, is always user-focused, first and foremost."
In a recent article, they break creating such content into three steps:
Audience research: Start by identifying your ideal parent. Find out where they congregate online, their personal habits, preferences, demographics, and stats
Keyword research: Next find the keywords that relate to what your school and what your parents are searching for. Remember they don't have to be your school keywords only. Perhaps they're looking for support on online safety, bullying, or what to look for when choosing a school
Topic research: Finally, come up with content topics based on the targeted keywords you discovered and what you've uncovered your parents want to learn/know
I think a lot of schools miss the opportunity to capture the attention of parents that aren't looking for them. Those are the ones you want to be targeting with your content. Look to answer the questions parents are searching. Check out Answer the Public if you haven't already.
---
Moz is a software company founded by Rand Fishkin in 2004. If you follow SEO at all you will have heard of Rand. He was probably the first to really bring SEO to the mainstream and make it understandable and accessible. His site Moz, not only offers some great SEO tips and advice, but they also got some helpful free (and paid) tools worth checking out. Two suggestions from Moz for ranking in 2019 that I thought I'd share…
3. Optimise Your Header Tags
"H1, H2, and H3 header tags are still super important. You want to make sure that the title of your page is the H1 and so forth. But just to check on all of that would be good."
Again, this is an SEO basic but one that any marketer can implement. When thinking of the keyword/phrase that you want a particular page to rank on, you'll want to make sure that it's included in your page title (H1) and your subheadings (H2, H3 etc).
One thing I've noticed over the years is quite a few older school websites (and a few newer ones as well) have their school logo as their H1 tag. Because your H1 tag helps to tell Google (and other search engines) what your page is about, you'll want to make sure that your H1 tag is unique and in fact your page title. If you can't see this information in your CMS, you can right-click on your webpage, select source code and search H1 on the page. You'll be able to see what is attributed to your H1 tag there.

4. Optimise Your Images
"Images are the biggest source of bloat of on-page site speed. So you want to make sure that your images are compressed and optimised and keeping your page fast and easily accessible to your users."
Photos play a big role in a school's brand so it's important if you are going to have a lot of images (especially those big showcase photos on your homepage), you upload the correct file type and size so you don't slow down your website load time. In addition, where possible (and again, this needn't be every page, just the pages you want to optimise for search), include your keywords in your image Alt tags and name.
Talking to your website developer is a start for guidance or you can learn more about optimising your images from my blog How to Optimise My School Website Photos for Search Engines. For even further guidance, check out this article by Kinsta ' How to Optimize Images for Web and Performance'.
---
SEOPressor is actually a WordPress website SEO plugin tool, but that doesn't stop them from providing some great tips on how to optimise your website for search, no matter what platform it was built on. My final tip comes from their recent blog '9 Powerful SEO Benefits of Internal Linking in 2019' …
5. Improve Your Rankings with Internal Linking
There has always been a big emphasis on external link building (that from other sites to your school website), but according to SEOPressor…
"There is another major factor almost as important, that is often being neglected. That is internal linking. Internal linking is essential for a website's on-page SEO, and it is an evergreen SEO strategy that should really be practiced by every SEO marketer out there."
Internal links (from one page in your school website to another) really serve three purposes:
They allow parents to navigate easily and logically through your website
They allow search engine crawlers to discover more pages of your school site – especially those with no external sites (which a lot of schools don't have)
They tell search engines that the page you're linking to has more internal authority. In other words, linking to those key pages you want to optimise from another internal page, gives that page even more authority
Aside from search engines, think about how your internal link structure might help guide prospective parents towards a conversion. Whether that's signing up for your newsletter, downloading a prospectus or registering for an Open Day, use your internal links to guide their journey.
I said SEO wasn't easy, but an optimised school website is attainable with a little bit of effort and a lot of patience. Start with the five above and you're on your way!
Looking for some help with your school's SEO? Checkout our SEO training and SEO services we offer below or get in touch!